This year, I've done two different list for my favourite books of the year: one for books published in 2016, and one for books published previously.
(I'll be posting my annual short stories post after Christmas.)
So, in no particular order, two Top Tens:
2016:
1. The Grieving Stones - Gary McMahon (Horrific Tales Publishing)
A superb novella which mixes folk horror with psychological weirdness to produce something only McMahon could have written. A controlled, slow-burn build up leads us into a ferociously good climax. Cracking stuff.
2. The Searching Dead - Ramsey Campbell (PS Publishing)
"
I've been reading Ramsey Campbell's books all my adult life, and yet he continues to surprise me.
The Searching Dead
is up there with his finest novels" - my full review here.
3. Becoming David - Phil Sloman (Hersham Horror)
This debut novella from Sloman, a tale of a serial killer being haunted by one of his own victims (maybe), delights and appals in equal measure. Superb.
4. Year's Best Weird Fiction #3 - Simon Strantzas, Michael Kelly (ed.) (Undertow)
Does exactly what it says on the tin, really. Nineteen tales that demonstrate both the rude health of literay horror fiction and the keen eye of the editors for a good short story. YBWF is a series we're lucky to have.


5. You'll Know When You Get There - Lynda E. Rucker (Swan River Press)
"Q

uite simply, one of the short story collections of the year" -
my full review here.
6. A Country Road, A Tree - Jo Baker (Knopf)
A fictionalised account of the life of Samuel Beckett, centred around his time in the French resistance in WW2. Beckett is one of my favourite authors, and this book is full of allusions to his work (the title is from the set description for Waiting For Godot) as well as skilfully depicting his character as a young man, caught up in the war, unaware of the artistic success ahead.
7. Secret Language - Neil Williamson (Newcon Press)
There seems to be little Williamson can't do with the short story form (I hate it when people call short stories a 'genre'), as this collection demonstrates. There's horror, science-fiction and dark fantasy here, all twisted into shapes only Williamson could imagine.
8. Singing With All My Skin & Bone - Sunny Moraine (Undertow)
"an alluring combination of horror, magic realism and even science fiction" - my full review here.
9. Bodies Of Water - V.H. Leslie (Salt)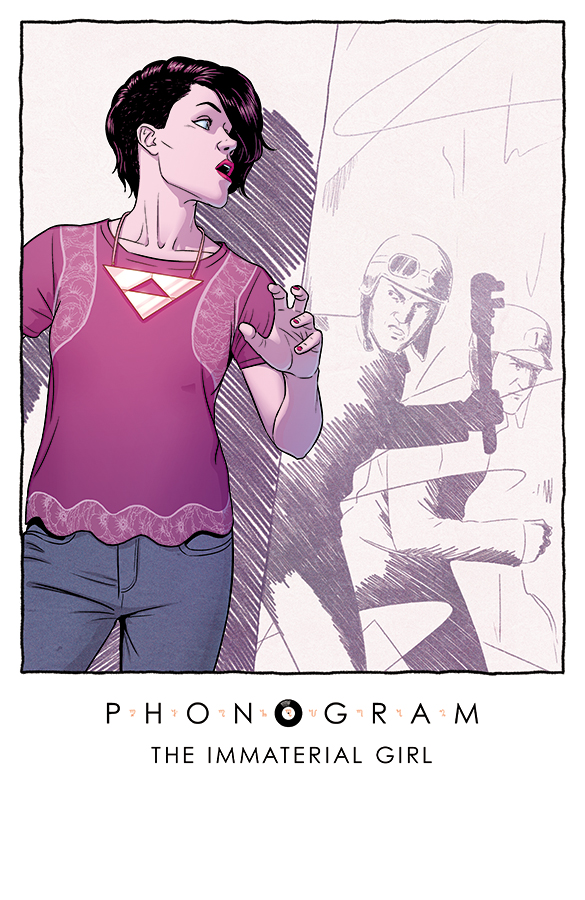 "a genuine truimph, a book sure of itself and full of quiet ambition" - my full review here.
10. Phonogram #3: The Immaterial Girl - Kieron Gillen & Jamie McKelvie (Image Comics)
The Phonogram graphic novels sound preposterous as a concept - a world like ours except that pop music = magic. But in practice they're a startling exploration of fame, youth, nostalgia, culture and the horror implicit in that famous video for Take On Me.
Other:
1. Everyone's Just So So Special - Robert Shearman (Big Finish)
Robert Shearman gives us a bumper selection of short stories and an overview of world history (with another story hidden within, natch) in this utterly original, delightful, messed-up, and disturbing collection.
2. The Bird's Nest - Shirley Jackson (Penguin Modern Classics)
I absolutely adore Jackson's work, but until the recent Penguin reissues I had some gaps in my collection. Reading The Bird's Nest for the first time was a revelation, a classic to stand alongside Jackson's other works of genius.
3. Lost Girl - Adam Nevill (Macmillan)
"a novel that I know will stay with me, haunting me with the fear that my daughter will grow up into the world it depicts" - my full review here.
4. Gateways To Abomination - Matthew M. Bartlett
"in story after story Bartlett's protagonists stumble across the strange, infectious voices of WXXT..." - my full review here.
5. Shadows & Tall Trees #4 - Michael Kelly (ed.) (Undertow)
A fine selection of stories from some of the best writers in the horror field: David Surface, Laura Mauro, Alison Moore, Ralph Robert Moore and, uh, more. As with the other issues of S&TT I've read, essential.
6. Albion Fay - Mark Morris (Snow Books)
A novella that mixes traditional horror with more modern fears; disturbing, creepy and seething with repressed emotion and memories. One of Morris's best, which is saying something.
7. A Cold Season - Alison Littlewood (Jo Fletcher)
An expertly written, engrossing ghost story, but then what else would you expect from Alison Littlewood? I enjoyed every chilly, frozen minute of this one.
8. The Wanderer - Timothy J. Jarvis (Perfect Edge)
"deeply serious yet it has the tone of a shaggy dog story told in a disreputable public house"
- my full review here.
9. Thinking Horror #1: S.J. Bagley (ed.) (TKHR)
A welcome venture, Thinking Horror is a journal dedicated to the exploration of the horror genre: it's aesthetics, its mechanics, its meaning, its history. This first issue has interviews and essays from Helen Marshall, Gary Fry, Nathan Ballingrud, Molly Tanzer and more. Stimulating and satisfying.
10. The Death House - Sarah Pinborough (Gollancz)
A heart-breaking, gut-wrenching, soul-rearranging novel about young people with a mysterious illness, sealed away from the world. It's important to note that I didn't, repeat didn't, blub at the ending. Nope.